Arte Suite, a luxury B&B Suite, located in  Workum, one of the Frisian Eleven Cities, in the former post office. The spacious suite of 35m², located on the first floor and is a mix of design, art with a hint of vintage.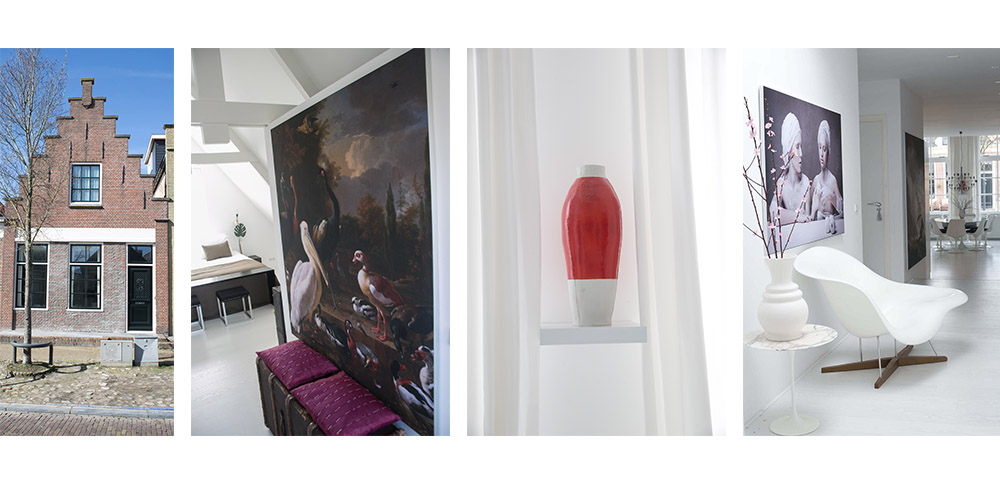 Beautiful unique textile prints of old master painters and signed/limited editions of  new masters are besides exhibited in the Suite, also to be seen in the gallery/ living space on the ground floor where in the morning you can enjoy a delicious breakfast.
Marianne has a hotel school training and over 20 years of experience in design and styling combined with her passion of Art and photography, brought together in Arte Suite.
FACILITIES
The suite on the first floor has the following facilities: very spacious electric box springs, 2 meters wide and 2,10 meters long. Privat bathroom. Nespresso machine and watercooker. Hairdryer and bathrobes provided. Wireless-free internet. The non-smoking suite is suitable for 2 persons
RATE 2023
Price per night €110,00 Euro for 2 persons incl. breakfast and incl. €1.25 city tax per night per person.
Reservations minimum  of 2 nights.
Free cancellation until 7 nights in advance.
Check In: Between 3 pm – 7 pm
Check out: 11:00 hr.
If you would like to arrive at a different time then mentioned above, please let us know.
Marianna showed me again why I love AirBnB. Marianne was definitely one of my best hosts I´ve ever visited all around the globe! Marianne warmly welcomed us. She is a perfect skilled host, since she used to work in the high end hotel industry for many years. You can see and feel it all the time, since she puts so much love in even the smallest details while hosting us. The entire house has a stylish, cool interior and the AirBnB room is super comfy (with a very cosy bed). Marianne was caring, friendly, interested in conversations, she gave us suggestions for the area and where to go incl. addresses, maps and websites 🙂 In the morning Marianne made us a beautiful, tasty breakfast 🙂 Yummy! Thank you so much Marianne, it felt like visiting a friend. You are just great and we are happy that we met you! Conclusion: Highly recommended! Book more than 2 nights 😉
Simply divine: Marianne is a host with superb eye for detail and goes out of her way to make her guests feel they receive a 5-star treatment.